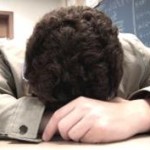 [My wife and I are on vacation, so my blog posts will be brief, and maybe a bit inconsistent.  We will be back the week of August 27th.]
"Just Do It"
That's how too many Christians try to motivate themselves.
They grit their teeth and simply choose to obey.
And that's how I lived for too many years — with poor results.
There's another way
But God's Word has a profoundly different approach to motivation.
So here are six blog posts to encourage you in this — enjoy!
How to Obey God -- Self-Pushing or Spirit-Empowering?

Jesus doesn't just want our will-power pushing us to obey.  He wants our hearts changed so we want to obey.  Here's how this happens.

How Can We Obey the Golden Rule?

There's one word in the Golden Rule we often miss — that makes a seemingly impossible command possible.

Not motivated to read God's Word?

What do you do when you're not motivated to read God's Word?  We might think it's all about will-power. But Jesus has another — much more effective — approach.

How do you obey — by will-power or Spirit-power?  There's a world of difference — but maybe not the difference you think.

Tchividjian and DeYoung on obedience -- can Piper help?

Last year Tullian Tchividjian and Kevin DeYoung blogged about Gospel-centered obedience — but did not reach an agreement. Here's my summary — and where I think the answer is found.

C. S. Lewis on Motivation, Self-Denial, and Rewards

Many Christians are confused about self-denial, rewards, and motivation. Here's C. S. Lewis' take — which might rock your world.
How did this affect you?
I'd love to hear.  Leave a reply below — thanks!
If you know someone who would be helped by reading this — email it to them using the "share" button below.
If you would like to receive a Saturday email summarizing each week's posts — subscribe here.  (I will only use your email address for Living By Faith Blog communications — and you can easily unsubscribe at any time.)
(Picture is from everystockphoto by waffler.)