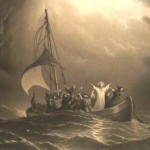 Who needs Bible passages on fear?
I do.  You do, too.
And God has given us many Bible passages on fear — to help us pray and fight the fight of faith and receive His strength and peace.
So here are the Bible passages on fear I have found most helpful —
And he said to them, "Why are you afraid, O you of little faith?" Then he rose and rebuked the winds and the sea, and there was a great calm.  (Matthew 8:26)
The disciples were in a boat in the midst of a gale-force storm — and they were afraid.
Jesus says they are afraid because they have little faith — they are not trusting who Jesus is and what He can do.
And then Jesus shows them what He can do — He calms the storm.
The key to overcoming fear is to trust Jesus — who He is and what He can do.
When I am afraid, I put my trust in you.  In God, whose word I praise, in God I trust; I shall not be afraid. What can flesh do to me?  (Psalm 56:3-4)
David knows that fear is overcome by trusting God — trusting all that God promises to be to us in Christ Jesus.
So what has God promised?
That through trusting Jesus I can be completely forgiven so all of God's promises are true for me (2Cor 1:20).
That God is in sovereign control of every trial that will ever happen to me (Eph 1:11).
That my greatest joy is found in knowing, beholding, and loving Jesus Christ (1Pet 1:8).
That whatever God does with my trials — taking them from me or allowing them to stay — it's to bring me even more joy in Jesus (John 9:1-3; 2Cor 12:8-9).
That He will give me all the grace, peace, strength, money, and wisdom I need in the meantime (2Cor 9:8; Rom 15:13; Phil 4:13; Mat 6:33; James 1:5).
If you are afraid — there's at least one of those promises you aren't trusting.
So ask Him to strengthen your faith (Mark 9:24), and pray over those promises until you feel faith strengthen, peace increase, and fear shrink.
…fear not, for I am with you; be not dismayed, for I am your God; I will strengthen you, I will help you, I will uphold you with my righteous right hand.  (Isaiah 41:10)
In this passage God says "fear not."  But fear is a feeling — and we can't just turn feelings on and off.
So what are we supposed to do?
Notice that in this verse God gives us reasons why we don't need to fear — and each reason is a promise — a promise which, if we will trust it, will take away the feelings of fear.
Notice the promises —
For I am with you — this trial is no surprise.  He is in sovereign control.  He will either deliver you from it, or sustain you in it — whatever will bring you the most joy in Him.
For I am your God — the fact that you face a problem does not mean He's stopped loving you.  He is your God — deeply, passionately caring for you.
I will strengthen you — yes, you feel weak.  But as you look to Him, trusting Jesus, He will strengthen you.
I will help you — He will take care of whatever you need.
I will uphold you with my righteous right hand — this trial will not knock you down.  Throughout this trial His righteous right hand will hold you up.
Fear disappears when we trust God's promises.
Do not fear what you are about to suffer. Behold, the devil is about to throw some of you into prison, that you may be tested, and for ten days you will have tribulation. Be faithful unto death, and I will give you the crown of life.  (Revelation 2:10)
Many times Jesus takes trials away — calming the seas and healing the sickness.
But sometimes Jesus allows trials to stay.  He allows us to suffer.
That's what Jesus tells the church here — "do not fear what you are about to suffer … be faithful unto death."
So if all these believers are going to suffer — and even die — why not fear?
The reason they don't need to fear is because they will receive the crown of life — which is a picture of the joy they will have in worshiping Jesus Christ forever.
When God allows suffering, it's because He will use it to bring us even more joy in Him forever (2Cor 4:16-18) — AND — in the meantime He will give us all the grace we need to suffer well (2Cor 9:8).
That's why we don't need to fear suffering, or death, or cancer, or poverty, or anything — because God will meet our every need during the trial, and will use the trial to bring us even more joy in Him forever.
So let this sink in — during every trial, every need will be met, and the trial will bring me more joy in Jesus forever.
So — "do not fear."
How were you affected by these Bible passages on fear?
I'd love to hear — use the box below to leave a reply.  Thanks.
Do you know someone who would be encouraged by reading this?  Email it to them using the "share" button below — or use the buttons to share this on Facebook, Twitter, or Google+.
If you would like to receive a Saturday email summarizing the week's posts — subscribe here.  (I will only use your email address for Living By Faith Blog communications — and you can easily unsubscribe at any time.)
And here's some related posts you might find helpful —
(Picture is by Gustav Dore and is in the public domain.)