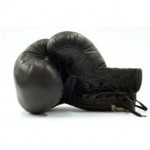 Living by faith means seeing my idols. 
This morning I woke up worshiping an idol.
How could I tell?  It's because my strongest feelings show what I am worshiping.
And when I woke up my strongest feeling was not praise and worship for all I had in Christ — it was frustration and discouragement about something else I had not received.
So at that moment I was not worshiping Jesus Christ.  I was worshiping an idol.
Living by faith means battling my idols.
I could just go through the motions of reading and praying and then get on with my day — hoping my heart would change with time.
But why do that — when God has promised to change my heart (Psa 40:1-3), fill me with peace (Isa 26:3), and give me joy in Him (John 15:11)?
So here I am — sitting at my desk with my tea — and my Bible open in front of me.
A ringside seat
I thought it would help me — and hopefully you — to write a blow-by-blow account of how God destroys this idol.
It's not conquered yet.  But let's see what God does.
Prayer
I'm starting with prayer —
Father, I come to You now in Jesus' name.  I trust that because of Jesus' blood and righteousness you will come and help this idol-worshiping heart.
I'm feeling little love for You and little zeal for Your glory.  I'm bowing before an idol.  Forgive me.  Change me.
Incline my heart to Your Word (Psa 119:36), and open my eyes to behold wonderful things from Your Law (Psa 119:18).  Light up my eyes, lest I sleep the sleep of death (Psa 13:3).
The Word
My Bible reading plan has me in Zechariah 1-5, Job 40, John 20, Revelation 19.  Here goes —
Zech 2:13 — God has roused Himself from His holy dwelling.  I trust that as I've prayed in Jesus' name, You are roused and coming to help me.
Zech 4:6-7 — By the power of the Spirit a great mountain will be removed.  I've got a mountain of idolatry.  Feels like it can't be moved.  Please, by the Spirit's power, remove it.
This is helping — a little.  I am feeling less frustration and discouragement — and more desire for Jesus.
Job 40:14 — I can't save myself.  I cast myself on Your mercy.
John 20:19-20 — The disciples feared the Jews.  But Jesus showed them his hands and side, and that changed their hearts — they were glad.
Jesus, show me Your nail-pierced hands and wounded side — displays of Your love for me.
Do this, not for the sake of a blog-post, but to free me from this idol so I can be glad in you once again.

I'm starting to feel what I was not feeling earlier — Jesus' love for me shown in his hands and side.  "Jesus loved me and gave Himself for me" (Gal 2:20).
Like my dad says — how can I doubt Someone who has loved me with Gethsemane-love?
Now my heart is starting to change.  Before — all I felt was what I did not have — this idol.  Now I am feeling what I do have — Jesus' love.
As the Spirit reveals Jesus to me — He is changing my heart.
Rev 19:2 — Your judgments are true and just.  Everything You do is good — everything.  Even me not receiving something is good.  Because — like everything You do — it will bring me more of You.  And You are my all-satisfying Treasure — not that idol.
Rev 19:7 — Let us rejoice and exult and give Him the glory.  I am rejoicing in you.  Be glorified as my Treasure.

He changed my heart.   The discouragement and frustration are gone — replaced by peace that Jesus will work everything to bring me even more joy in Him.
I'm no longer bowing before that idol.  I'm bowing before Jesus.  Feels good to be home.
A few more things

I'd love to hear your comments or feedback — just leave a reply below.  Thanks.
If you know someone who might be encouraged by this, send it to them with the "share" button below.
If you'd like more on fighting the fight of faith — go here.
If you'd like to receive a Saturday email which gives a summary of the previous week's posts, subscribe here.

(Picture is by januszek on stock xchng.)