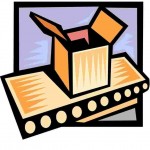 Living by faith means trusting all that God promises to be to us in Christ Jesus.
So what does God promise when we are tempted to steal from the boss, gossip about the neighbor, or drift into self-pity?
One promise I turn to again and again is 1 Cor 10:13 —
No temptation has overtaken you that is not common to man. God is faithful, and he will not let you be tempted beyond your ability, but with the temptation he will also provide the way of escape, that you may be able to endure it.
So what does God promise about every temptation we face?
It is common to man.
Which means that as powerful as the temptation feels, it's not greater than what others experience.
So you are not alone.  Your brothers and sisters in the body of Christ are with you in the war — tempted in ways that are just as intense.
God will not let you be tempted beyond your God-enabled ability.
Picture a conveyer belt from Satan bringing you temptations — some which are within your ability — some which are beyond your ability.
God promises to take off the conveyer belt all that are beyond your ability.
Which means the only temptations you ever face are those that are within your God-enabled ability.
With the temptation, God will provide a way of escape, so you can endure it.
In World-War II, men trapped in submarines on the bottom of the ocean could use escape pods to get to the surface.
In the same way — with every temptation God provides an escape pod.
Sometimes it's just running from the temptation — like Joseph ran from Potiphar's wife (Gen 39:12).
But you can change the location of your body easier than you can change the desires of your heart.
So God also provides …
An escape pod for our hearts
Every temptation says there's more pleasure in sin than in Jesus.
That's a lie.  But when we are tempted it's because our hearts aren't feeling the superior pleasures of knowing Jesus.
So the escape pod for our hearts is the Holy Spirit giving us such a taste of Jesus that temptations lose their power (Matt 13:44; Phil 3:8; Heb 10:34; Heb 11:26; 2Pet 1:4).
Just like the old hymn —
Turn your eyes upon Jesus,

Look full in His wonderful face,

And the things of earth will grow strangely dim,

In the light of His glory and grace.
How the Spirit does this
As we cry out for the work of the Spirit (Luke 11:13), and turn our eyes upon Jesus as revealed in the Word (Eph 6:17), the Spirit will change our hearts so we once again feel His glory and grace.
This might take some time.  And maybe it would help to invite some trusted friends in the faith to pray with you.
But keep trusting — and praying over God's Word — because God will provide the escape pod.  He's promised.
He will enable you to feel His glory so strongly that you won't desire to sin, any more than someone with business-class tickets would desire to fly economy.
Next steps
I'd love to hear any feedback or comments.  Feel free to leave a reply below — thanks.
If you know anyone who is facing temptation, send this to them by clicking on the "share" button below.
And if you'd like to receive a Saturday email giving a brief summary of the previous week's emails, subscribe here.
(The picture is from Microsoft Publisher clipart.)