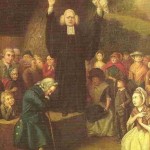 To live by faith we must read God's Word
In the 1700's God worked through George Whitefield's preaching to fill England with the Gospel.
So how did such a powerful preacher read God's Word?
Here's his description —
I began to read the Holy Scriptures upon my knees, laying aside all other books, and praying over, if possible every line and word.

This proved meat indeed, and drink to my soul.

I daily received fresh life, light, and power from above.

I found it profitable for reproof, for correction, for instruction in righteousness, every way sufficient to make the man of God perfect, thoroughly furnished unto every good word and work.

(From "Whitefield's Journals" p.60.)
My take-aways
He read on his knees.
He prayed over Scripture.
He prayed over, if possible, every line and word.
Through this he daily received life, light, and power from above.
Next steps
What's your approach to Bible reading?  Take some time today to read like Whitefield did.  Let me know what you experience, or any other thoughts you have — feel free to leave a reply below.
Do you know of anyone else who would benefit from reading this?  Send it to them with the "share" button below.
Would you like to receive a Saturday email giving a brief summary of the previous week's posts?  Subscribe here.
(Picture by worldrevivalnetwork on flickr.)