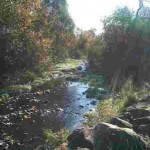 A few days ago I headed down to the creek near my house to walk and pray.  And as I often do, I took a look at my heart to see what was going on.
What I found wasn't pretty.
I knew I would launch this blog in a few days.  And (I'm embarrassed to admit it) my heart was going back and forth between fear that this blog would be a belly-flop — and excitement that it would be seen as ABSOLUTELY AWESOME.
Yech.
This showed that I had turned from trusting Jesus as my Treasure, to trusting this blog as my Treasure.
So I talked to the Father about this.
I came to Him as I was, trusting Jesus' blood and righteousness to forgive and cover me.
I confessed my vanity and pride.  I asked God to wash me clean and change my heart.
And then for some reason I thought of Abraham and Isaac.  I felt like this blog was my Isaac.  That God had given it to me, but that I must surrender it to God — lay it on the altar — for God to do with it whatever He wanted to.
So that's what I did.
And something happened that for me was amazing.
See, usually it takes some time praying over God's Word before I start to feel even a little of the Spirit's heart-changing work.
But this time — in God's mercy — it took about 15 seconds.
God quickly and deeply changed my heart.  Both the fear and the excitement were gone — and I felt an overwhelming desire to know and love Jesus.
Losing Jesus felt infinitely worse than having a belly-flop-blog.  Having Jesus felt infinitely better than having an awesome blog.
I was free.
What this taught me:
Keep watch over my heart (Prov 4:23).
Come to the Father in Jesus just as I am for help (Heb 4:16).
The Holy Spirit can change my heart no matter how messed up I am (Luk 18:27).
Until next time —
Steve